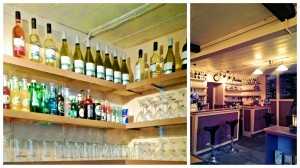 Review written for Beaminster Community Website by KatyPotatie
We wander into town looking for a little nook on a Thursday evening that offers us a bite to eat. It's slightly drizzly outside and the glow of the warm lights from businesses in the square give us a sense of belonging, and welcome.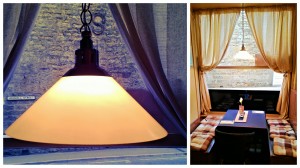 We notice a new little glow. A glow from a window that we didn't expect to be open on a Thursday night. One that we hadn't really noticed before. The glow emanates from The Steak Out, and the open door bids us welcome. We go inside.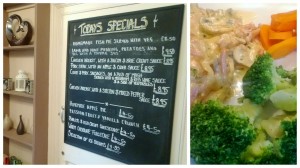 The Steak Out, previously known as Vicki's Sandwich Bar & Tea Rooms, in Hogshill street, has had a makeover. The country green has turned into warm shades of chocolatey browns and new menu boards on the wall indicate that there is so much more on offer. We sit down at one of the tables at the window. We like to watch the world go by. The décor is a combination of hushed leather and industrial metal, with an allure of a cigar bar. The licensed bar is beautifully kitted out with a wide selection of things to drink, and well laid-out tables in this relatively small space provide perfectly private and intimate little dining spaces.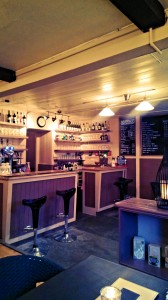 As the candle flickers on our table, we cast our eyes past the local supply of Clipper Teas that are for sale on the shelves beside us, to the Specials Board hanging on the wall. The Steak Out specialises in providing the best quality steaks. Whether you're partial to some rump (no innuendos intended), or whether it's a rib-eye that captures your heart – be assured that your tastes will be looked after. If it's not steak that you're in the mood for, a variety of other dishes on offer are guaranteed to satisfy too.
We settle on a rib-eye steak (medium rare), and a chicken breast with a bacon & brie cream sauce, a pint of lager and a cider for the lady. We have a chat to Steven Stanners, the owner and chef. We marvel at his culinary experience, having previously run the Greyhound Inn as well as been the chef at Winyards Gap restaurant. He tells us about the challenges of running a restaurant and the paths their lives have taken to develop The Steak Out into the place it is today. He tells us about their popular mid-week roast (£6 for 1-course, £8 for 2-courses), and reassures us that they still continue to provide the same sandwich take-away option as before – making sure that their focus is to attract new clientèle, while at the same time, not alienate their already existing patrons.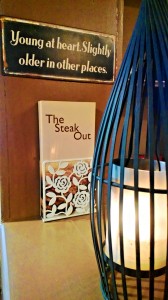 The Steak Out offers a range of mouth-watering breakfasts and lunches too. "If it's merely a drink that you're after, then come and have a seat at the bar and enjoy some quiet time", says Steve, looking out of the window as a gent and his Labrador walk by. Walking through the bar, you enter into another little room. "This is the chill-out area", he says. Whether you want to sit quietly, enjoy a pint, and watch the rugby, or whether you want to hire this area out for stork parties or kitchen teas – this little room, clad with art by local artists, and comfortable welcoming leather sofas, is perfect if you are looking for a private space.
Steven uses only British 21-day matured steak and sources local ingredients for his dishes as far as possible.
Phil Collins lulls us along as we tuck into the meal put before us. The steak, cooked perfectly, is a welcome tummy-warmer to accompany an ice cold cider and we disappear into a food-euphoria for a little while. The chicken is cooked to perfectly and accompanied by fresh seasonal vegetables. Servings are not shy, and the accompaniment of side dishes will more than fill most diners.
The Steak Out is open daily from 8:00am – 5:00pm, but on Thursday, Friday and Saturday evenings, service extends well into the evening for those looking for a place to have dinner.
We walk out into the Beaminster evening air. We feel satisfied. Full. But most of all, we feel that we've been with friends. Welcomed and appreciated. We make our way, drunk on good food, back home to catch our latest favourite episode of Mad Dogs.
(KatyPotatie)