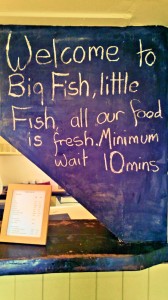 I first meet Alex, Sam and Boopee, more professionally known as Verity (the pooch), after a Sunday evening stroll through Beaminster. My curiosity leads me to the restaurant window, into the entrance hall, and onward towards the counter where a friendly smile bids me welcome. "Just being nosy", I mention to Sam, as I immediately notice the familiar bottles of Fish Hoek crisp white winking down at me from the shelves behind her.
This is Big Fish Little Fish.
I silently vow to return, once I've rinsed the mud off of my wellies, and at least brushed my hair.
Fast forward to Monday evening, 24 June. Time: 17:43. Temperature: somewhere between 12 and 17 degrees with a light SE breeze.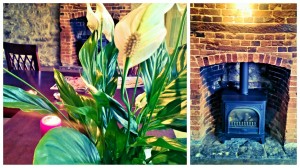 Den and I trundle through the green doors of Big Fish Little Fish.  Psychologically expecting to see the familiar tables from The Wild Garlic, the only reminder of what went before is the colour of the walls and a beautiful stone wall cradling a wood burning stove. We say a quick hello to Sam and take our seat at one of the tables in the corner of the restaurant.
The layout is somewhat sparse, but promising nonetheless. Flickering candles in glass bowls of glistening river stones adorn each table. Apologies are made for the work-in-progress renovation of the old sash windows but we are comfortable at our table and the aromas from the kitchen already have our stomachs eager to sample the menu. Sam brings the menu to us and we make our choice.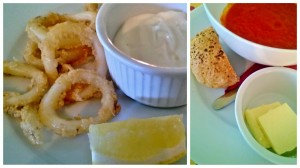 Sam and Alex have been together for just over a year now. Alex, having more than 10 years of head chef experience from the likes of the Browns chain of Bars & Brasseries, as well as the the Bellhouse Hotel, has a passion for food. His face lights up as he talks about the dishes he serves. "We don't serve Jenga chips here, and lovingly prepare everything ourselves… by hand. No two chips are the same, and we take care to flavour our seafood carefully". Sam adds that all the food is prepared each day, with an early start. She explains their unique style at leaving the skins of the potatoes on the chips, in order for them to hold their flavour, and more importantly, their warmth, that much longer.
Sam, comes from a guide-dog training background, and excitedly tells us about her precious Verity (known as Boopee to her friends) who holds the fort in the flat upstairs, waiting for the end of evening service. She laughs as she recounts an occasion recently, where Boopee, quite nonchalantly, made her way onto the roof above the restaurant and innocently sat and watched the world go by.
Our starters arrive – I have chosen the Calamari with the homemade aioli, while Den has chosen the hearty pepper and tomato soup du jour, served with a crusty slice of bread.  Sam tells us that the calamari is a favourite at the restaurant. I have no trouble in believing  her. It is seasoned to perfection and the garlic ai
oli makes you want to continue dabbing your fork in, just for a taste, long after the calamari has finished.
The menu is uncomplicated. The focus is on food. As it should be, and I tuck into (perhaps a little too eagerly) my second glass of vino. I silently wonder whether it would be acceptable to have calamari for starters, mains and desserts…. Den smiles and I wonder whether he has read my mind.
Sam also tells us a little about her silver service waitressing days, having served to many a celebrity, and their celebrity wives at VIP receptions. As we tuck into our battered cod, non-jenga, home-prepared chunky chips and fresh crunchy garden peas, I ask Sam and Alex about the ingredients they use.  "We only use local ingredients. Our fish hails from Samways in Bridport, and our potatoes from local suppliers. For non-fish meals, we source our meat from Nick Tett's family butchers in Beaminster and our vegetables from Fruit & Two Veg, also in Beaminster".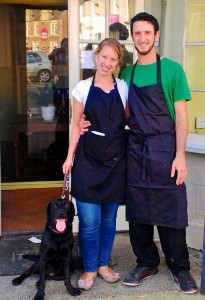 "This project has been a huge learning curve for us," Sam says. "It is a continuous work in progress and we are constantly learning new things – and make improvements as we go. It is anything but finished, and we are excited about where we're going". I ask them what their future holds, and the plans they have – and Alex shyly smiles and tells stories about red onion preserves and homemade tartare sauces that he hopes to have for sale on his shelves soon.
Our meal has more than satisfied. Den and I know our fish, but more importantly we know our batter. We know when batter has been neglected, the oil left just one day too long, the soggy bottom of a cod fillet, yet the meal served at Big Fish Little Fish leaves you feeling that it has been carefully and lovingly prepared – and it is clear to see on the smiles of those who place their take away orders, that they feel the same.
As we pay the bill, with our slice of cheesecake (for pud) under our arms, we thank Sam and Alex as we leave – but not before having the chance to meet the infamous Boopee.
Perhaps sub-consciously, when I wonder past Big Fish Little Fish from now on, my eyes may… just maybe… drift upwards, and hopefully, if I'm lucky, I'll see a black labrador pup, with a bright pink tongue, lying in the sun and smiling down on me.