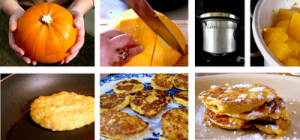 We were recently invited to contribute to the Halloween edition of the Eat Balanced blog where they were looking to do a specific feature on healthy Halloween alternatives. We were honoured to be able to introduce an old South African favourite – Pumpkin Fritters – but with a healthy twist.
Below is the full version of the article written:
Since the moment I can remember, my mom has been a force in the kitchen. She has healed many a broken heart over a cup of tea and a slice of carrot cake, or resolved an argument with her peppermint crisp tart. She has worked late into the nights making sure my birthday cakes have been finished in time, and has single-handedly presented Parisian dinner-parties that Julia Child would be proud of.
So you would understand my love of food, and creating delicacies in the kitchen, as being an innate developmental process that I've learnt to love and appreciate.
I am a 33 year old South African, living and working in Dorset. Married to a wonderful Englishman, I revel in exploring the English countryside and the local producers of all things wonderful – cheeses, breads, wines, even Vodka – you would find it all in the South West. However, one thing you will also find, are the experimental aromas that sometimes lurk around the house – when I'm trying to recreate a traditional South African great, or try something new – without the guidance and assistance of my mom.
Pumpkin fritters are one of those things. Growing up in a healthy home meant that we all too often had to replace the naughtiness for suitable healthy alternatives – and as much as my siblings and I used to fight over the mixing bowl for mom's amazing chocolate cake, the carrot cake that she produced for my 16th birthday, that was wheat-free, dairy-free, sugar-free , left most of my sugar-loving friends coming back for second helpings.
In South Africa, no traditional "reis, vleis en aartapels" meal ("rice, meat and potatoes") is complete without a pot full of pumpkin that has been simmering away for a while. I can remember visiting my grandma's house – she'd put on a meal that would have me thinking that 2 additional families would be joining us… and would have my grandfather snoring in his reclining chair while the kids had to keep themselves amused by playing pick-up sticks, or card games. Heaven-forbid anyone trying to pay the piano – they'd end up facing his wrath of an early snooze-wake up.
Pumpkin fritters – the food of the gods. Often made from leftover pumpkin, these were perfect for a rainy cold day – Mashed together with a bit of flour, bicarb, ground almond – to give it a nutty wholesomeness, some eggs to get them to stick together and a few other bits and pieces.
Looking at healthy alternatives, over time, the flour was replaced by gluten-free alternatives, honey instead of sugar, low-cal spray instead of oils and still continued to be the comfort memory of home that any foreigner abroad longs for.
As the clocks go back, and we prepare the garden for the icy winter ahead, it only makes sense to start a new week with an old faithful that is guaranteed to warm the cockles of your heart, give you a sense of home, regardless of where "home" is, and most of all provide a snacky delish without any guilt or regret!
What you'll need:
Ingredients:
· 1 ½ cup of cooked pumpkin or squash
· 3 tablespoons of ground almonds
· 1.5 tablespoons of wheat-free flour
· ¼ tsp bicarbonate of soda
· Pinch of salt
· 2 eggs
· Low calorie cooking spray
· Cinnamon, honey, sweetener (for the toppings)
I'm usually quite forgiving with measurements – and cannot remember the last time I've actually used a measuring spoon correctly. I usually have an idea as to the consistency of "dough" that I'm looking for. Combining all ingredients in a kitchen mixer, except the toppings and the low-cal spray, get the stove on and a non-stick frying pan ready.
Spray a couple of squirts of the low calorie spray into the pan and allow to heat up. Every time I do this, I remember the time that my mom made the switch to non-stick sprays instead of butter to line the bread and cake pans – and the number of occasions that she'd flung the back door of the kitchen wide open as she'd realised she'd been slightly over zealous and needed immediate aeration!
So, yes, get the pan ready. When nice and hot, spoon dollops of the pumpkin mixture into the pan – making sure they're not too thick. Leave for a few seconds – and when you see a few bubbles rising to the top, then remove the pan from the heat and leave it to rest for a few seconds. When ready, flip the fritter over and return to the heat until golden brown.
Put the kettle on in the meantime, and get your mug of your favourite favourite ready.
Enjoy the fritters to your own taste – whether you drizzle some honey over the top, or sweetener –be sure to sprinkle cinnamon generously for that special reminder of mulled wine, spicy biscuits and turkey roasts that lie ahead.