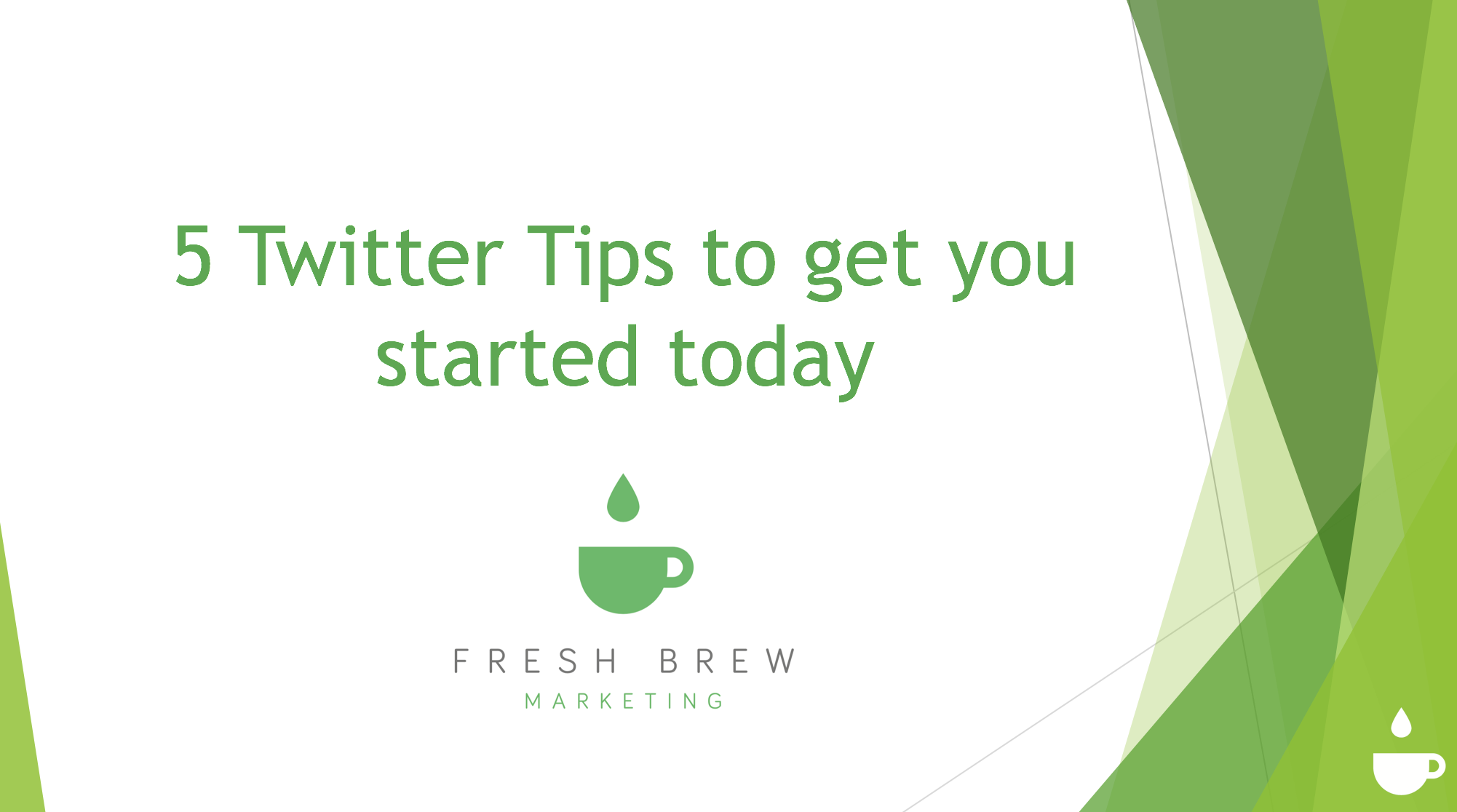 Fresh Brew Marketing is often asked for guidance and social media training to help people and businesses kickstart their social media activity. If you're reading this, then you probably already understand the importance of using Twitter for your business, and if you're reading this, then you're probably also a little unsure as to where to start.
Here are 10 tips to help set your path for Twitter success.
1. It's all about your Bio
Your Biography speaks for you long before you've composed your first tweet. And surprisingly, so many people overlook the importance of a good biography. In the training sessions we present, we usually run a little exercise whereby I ask individuals to introduce themselves to me in 10 seconds. Many go straight for the, "My name is Katy Roberts and I'm a Marketing Manager for XYZ Ltd". That's great – if people are specifically interested in your job title. But when people look at your biography, they are more than likely interested in knowing more about you, what you like, what you represent, what's important to you.  The introductions that stand out to me most are ones that form conversation pieces.
eg: My name is Katy Roberts. I'm a South African living in Dorset who loves to bake, geocache and help businesses grow.
That's much more interesting – and may probably get a response from the person I'm talking to.
2. Understand your audience
There's no point preaching to the converted, and definitely no point preaching to people who simply don't want to hear. A large part of Twitter success is understanding your audience. Unfortunately, the measure of good Twitter activity is not always the increase of your follower numbers. Yes, that is great – but what good is it having someone follow you who may not be interested in what you have to say, never plans to talk to you and more importantly, never plans to buy from you.
If you already have an existing audience – great. Now is the time to start building on what you have. If you don't already have a follower audience – great. Now is the time to start building one.  Actively building an audience relies mainly on a sense of self-understanding:
What is my message
What is my industry
What factors in my industry and business form fundamental talking topics?
Who is my ideal customer?
Who is influential in finding my own customer?
Who are my peers that will help to develop my message
Once you understand the above, then building an audience is simple. You want to find followers who answer to any of the above points. Be careful not to become imbalanced by only targeting potential customers – remember, credibility will soon speak for you and your followers will quickly pick up whether you're just in it to sell it.
Once you have determined what your audience wants to hear, what they are talking about, what's important to them – well then starting a conversation with them is easy, and structuring your Tweets around those conversations, even easier.
Remember, credibility is KING – and no, buying followers, and likes, is not the way to building your audience.
3. URL abbreviator
You are probably very aware that Twitter only provides 140 characters for you to say your say.  But what do you do when you have a mighty-long URL that you want to include in your tweet, but simply don't have enough space to do it?
You abbreviate it.
There are loads of great tools that can help you do that – and whether you're using a tool like Hootsuite or Tweetdeck that give you that option, or whether you're composing your tweets manually – abbreviating your tweets not only gives you space to say more, but it gives your followers a better user experience.
Some tools to use for URL abbreviation:
TinyURL – http://tinyurl.com/
Goo.gl – https://goo.gl/ 
Bitly – https://bitly.com/
4. Pictures don't use character-space. Use them!
Until recently, adding an image to a tweet used your character allowance for that Tweet. Thankfull, Twitter came to their senses and removed that which means that you can now add images or GIFs to your tweets which don't take up character space.
With that change in place – the point of a well thought-out tweet is to get someone to stop scrolling in order to read your tweet. An image instantly grabs attention and speaks more  for you than the letters you've used in your tweet.  Whether you're looking to shock, encourage, question or challenge – an image is the perfect way to get noticed.
5. Polls, Questions and Challenges
Another one of Twitter's latest features which work well, is the Poll. Social media is a 2-way conversation – and is done on your audience's terms.  Nobody likes a broadcaster who simply self-promotes in order to dominate conversations – and a poll is a great way to identify what your audience enjoys, how they feel about key issues and invite interaction and conversation.
People love to give their opinion, and when it's anonymous and affects something they believe in, they are more than likely to give you their input. But you need to ask.
Compose your tweets with questions and challenges. Think about how you structure a tweet. Stimulate conversation and even edge on the controversial. Play with techniques and tactics until you find the one that works for you.
To create a poll, simply click on the Poll icon below your tweet window, and you will be presented with options.  For example: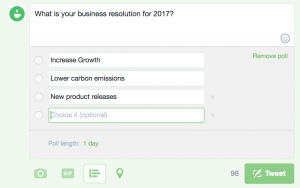 And then click "Tweet". That's all there is to it.
Like what you see? Why not sign up for a Social Media training course to learn the ins and outs of activating your business social media presence. Our training leaves you feeling confident and armed with the tools you need to smoothly ramp up your online presence – without feeling out of your depth.